Introduktion av våra aveslsston
Från starten 2007 så har Eldhestars avelsprogram präglats av två olika grundläggande idéer. För det första strävar vi efter att avla fram hästar som är väl uppfostrade och har bra gångarter. För det andra så avlar vi fram hästar med erfarna ryttare i åtanke, hästar som är väl lämpade för ridlektioner samt för Eldhestars Horse Shows. Våran största utmaning har alltid varit att avla fram hästar som är väl uppfostrade med ett stabilt psyke och med mjuka och lättridna gångarter. Företaget och dess delägare har på så sätt investerat i avelsston som förväntas producera avkommor med stor potetial. En annan viktig faktor för att få önskat resultat är att välja rätt hingst till dessa ston.
Träffa stona som hjälper oss att förvärkliga dessa drömmar, bokstavligt talat. Klicka på sida för unghästar för att få mer information om våra föl.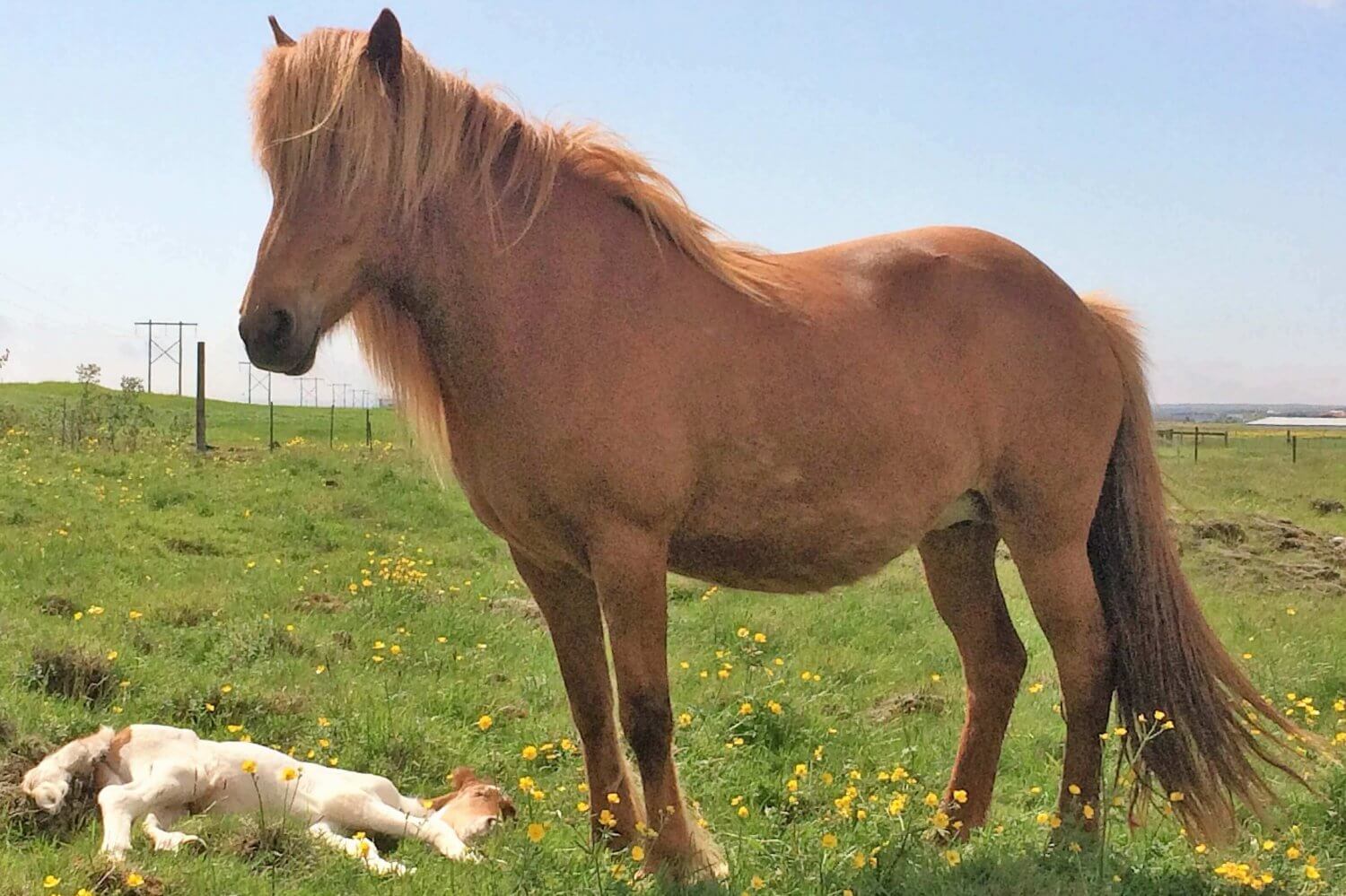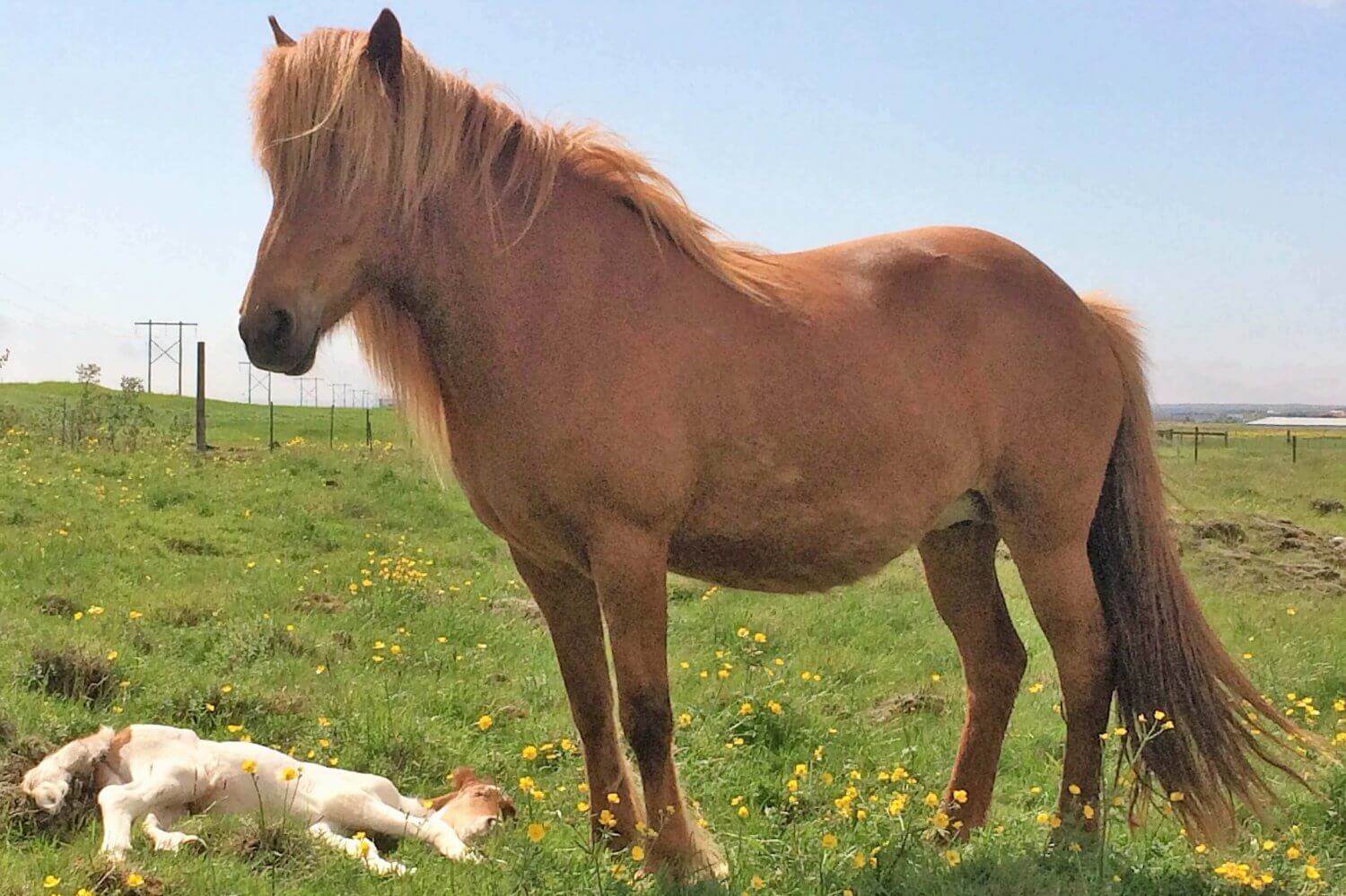 FEIF-ID
IS2004284623
COLOUR
Chestnut
SIRE
Orri frá Þúfu í Landeyjum
IS1986186055
DAM
Mánadís frá Miðkoti
IS1991284622
CHARACTERISTICS
A favourite among our guests, expected to produce interesting riding horses
OFFSPRING
Ísak IS2016187087
Ilmur IS2017187035
Ímun IS2018287074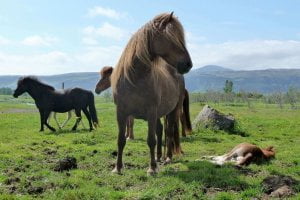 FEIF-ID
IS2003281664
COLOUR
Dark chestnut/Liver with a long narrow blaze
SIRE
Glóðar frá Reykjavík
IS1997125217
DAM
Ör frá Ártúnum
IS1993286272
CHARACTERISTICS
Grand movements, soft gaits, very good temper, expected to produce good tölters, suitable for children´s and youth's competitions.
OFFSPRING
Seyðir IS2015187087
Seyður IS2016187086
Sigyn IS2017287086
Spök IS2018287086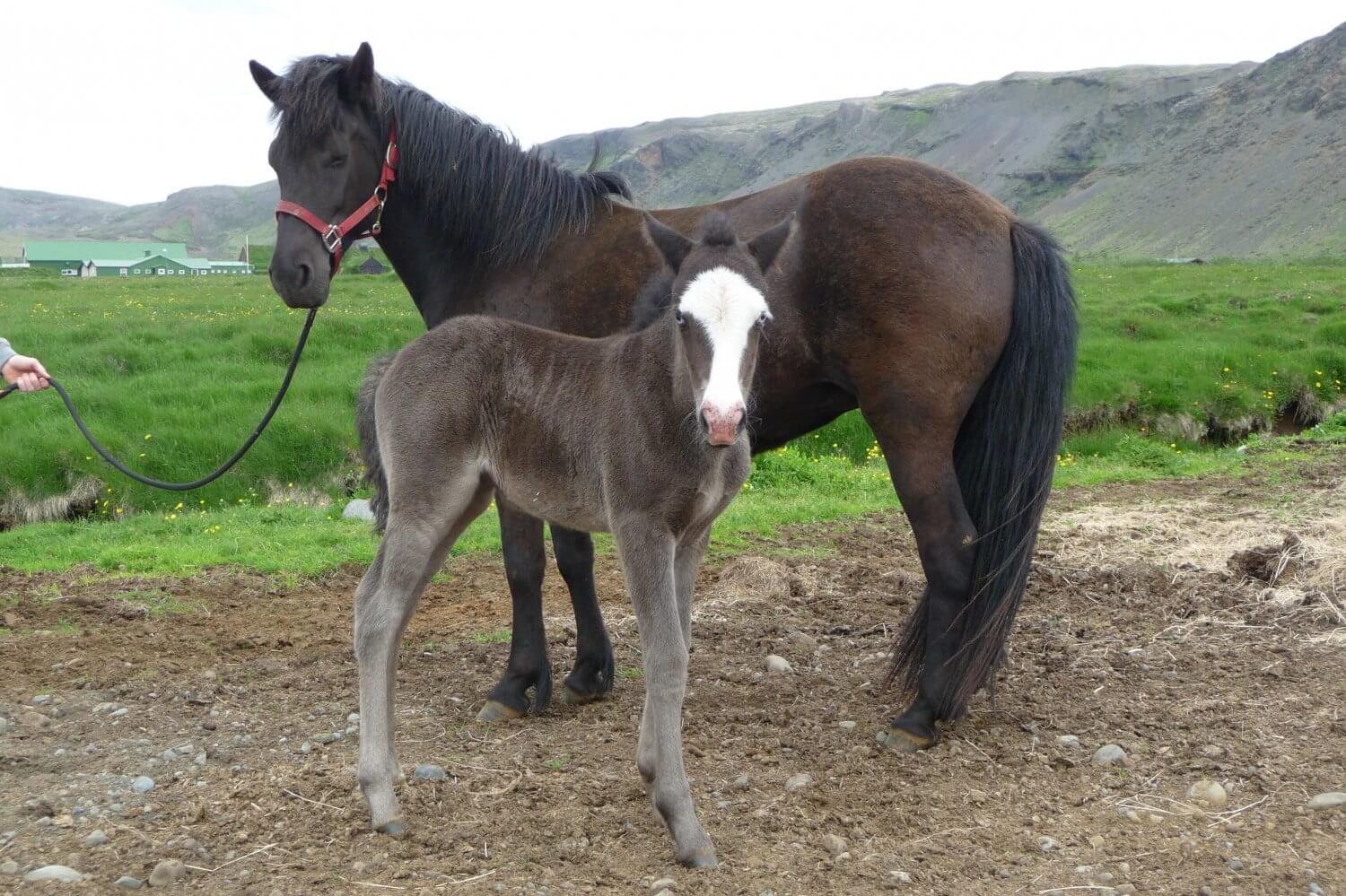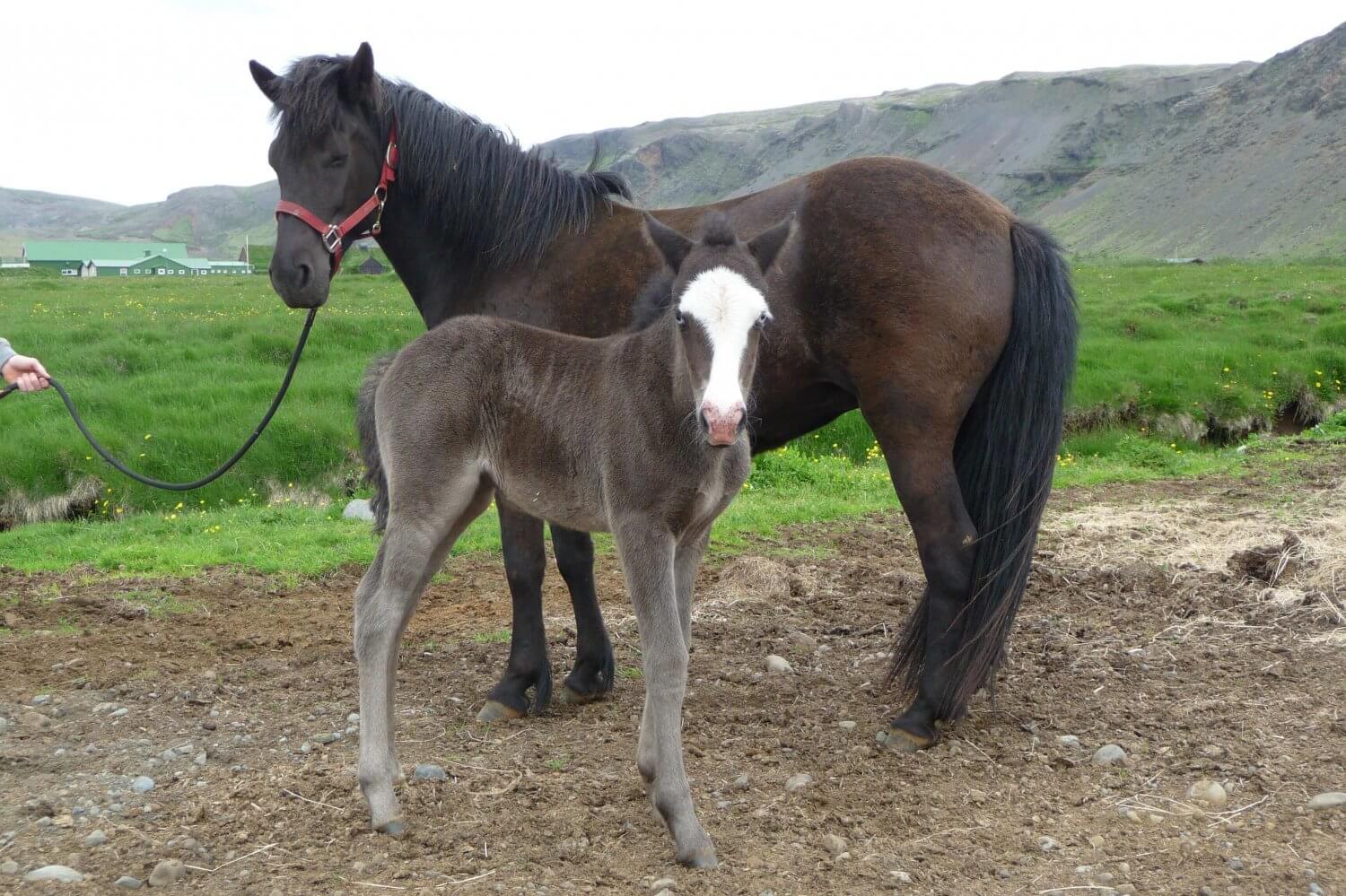 FEIF-ID
IS2003287041
COLOUR
Brown
SIRE
Þjarkur frá Kjarri
IS1995187005
DAM
Dóttla frá Hvammi
IS1983287105
CHARACTERISTICS
Sister to the highly-judged stallion Klettur IS1998187045. Five-gaiter with big movements and smooth, long strides
OFFSPRING
Hvammur IS2013187087
NN IS2014187046
Orka IS2015287083
NN IS2016287042
Ón IS2017287084
Óski IS2018187083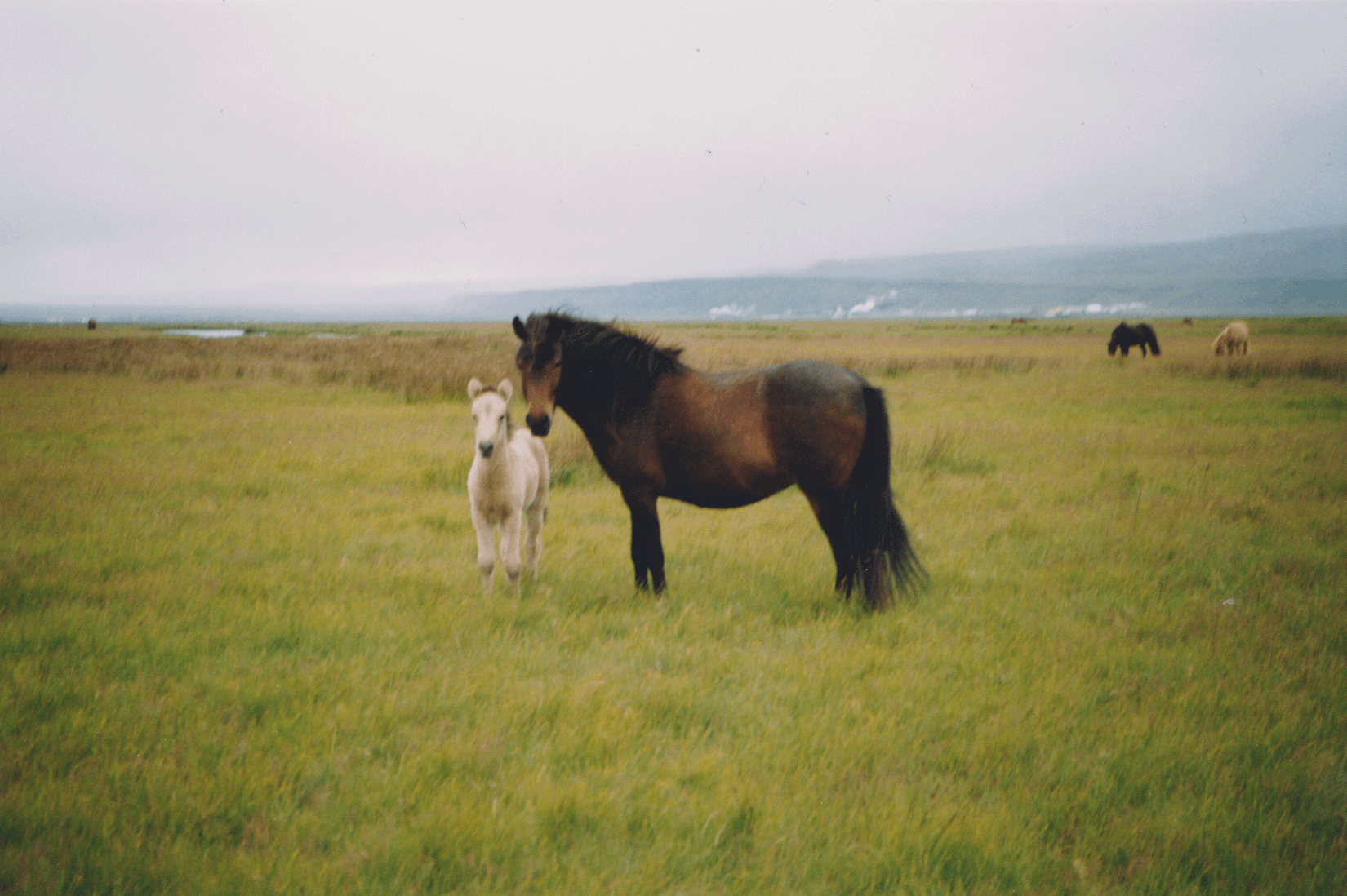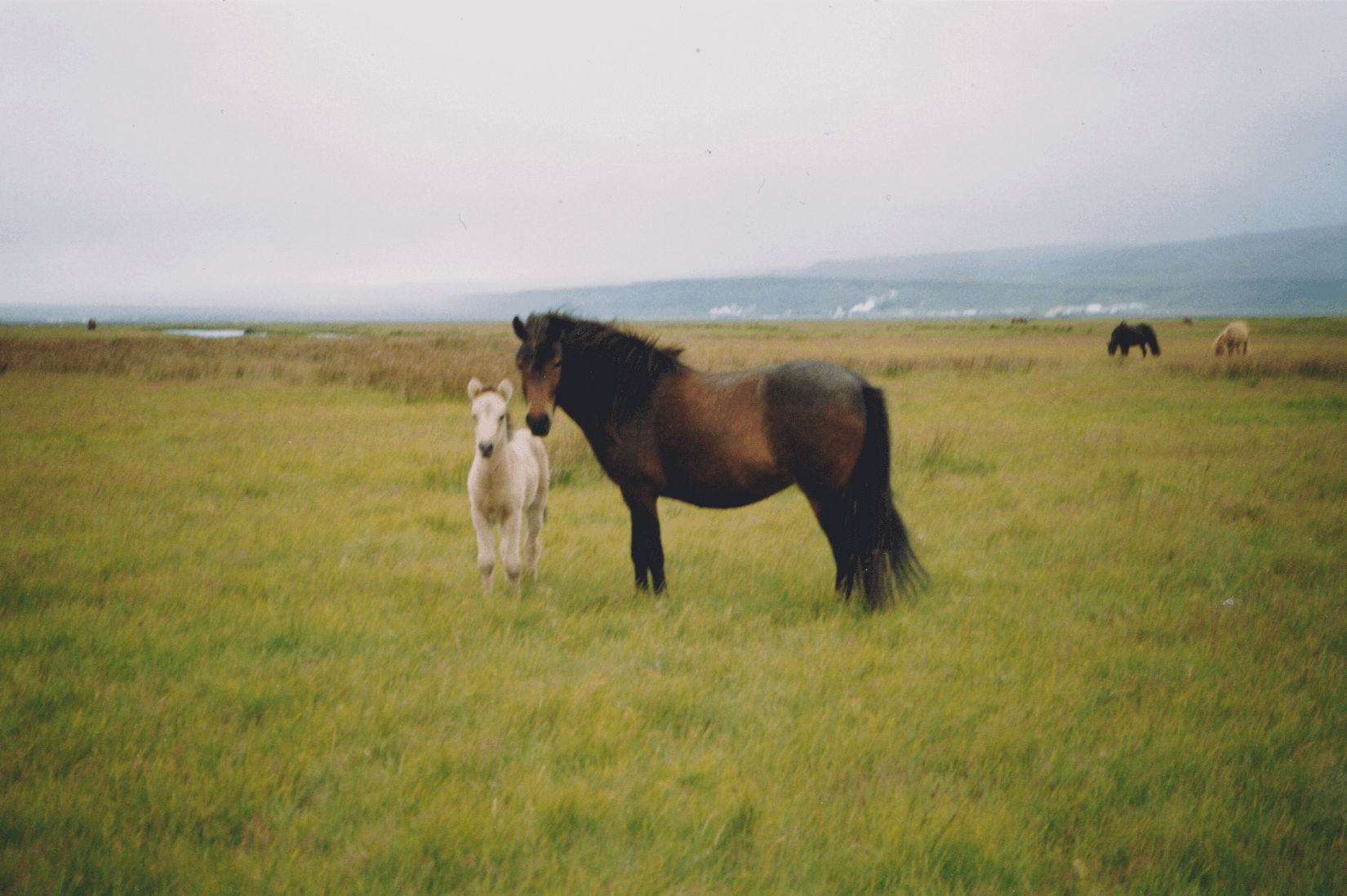 FEIF-ID
IS1996282190
COLOUR
Bay
SIRE
Amor frá Egilsstöðum 1
IS19AB182001
DAM
Jörp frá Egilsstöðum
IS19AB282001
CHARACTERISTICS
Pedigree of hard-working, good riding horses, offspring receiving high marks.
OFFSPRING
Molda IS1999282191
Háleggur IS2001187095
Saga IS2005282197
Riddari IS2007182079
Galsi IS2010182190
Fengur IS2011187075
Sóley IS2014287078
Sporður IS2016187078
Vinur IS2018187078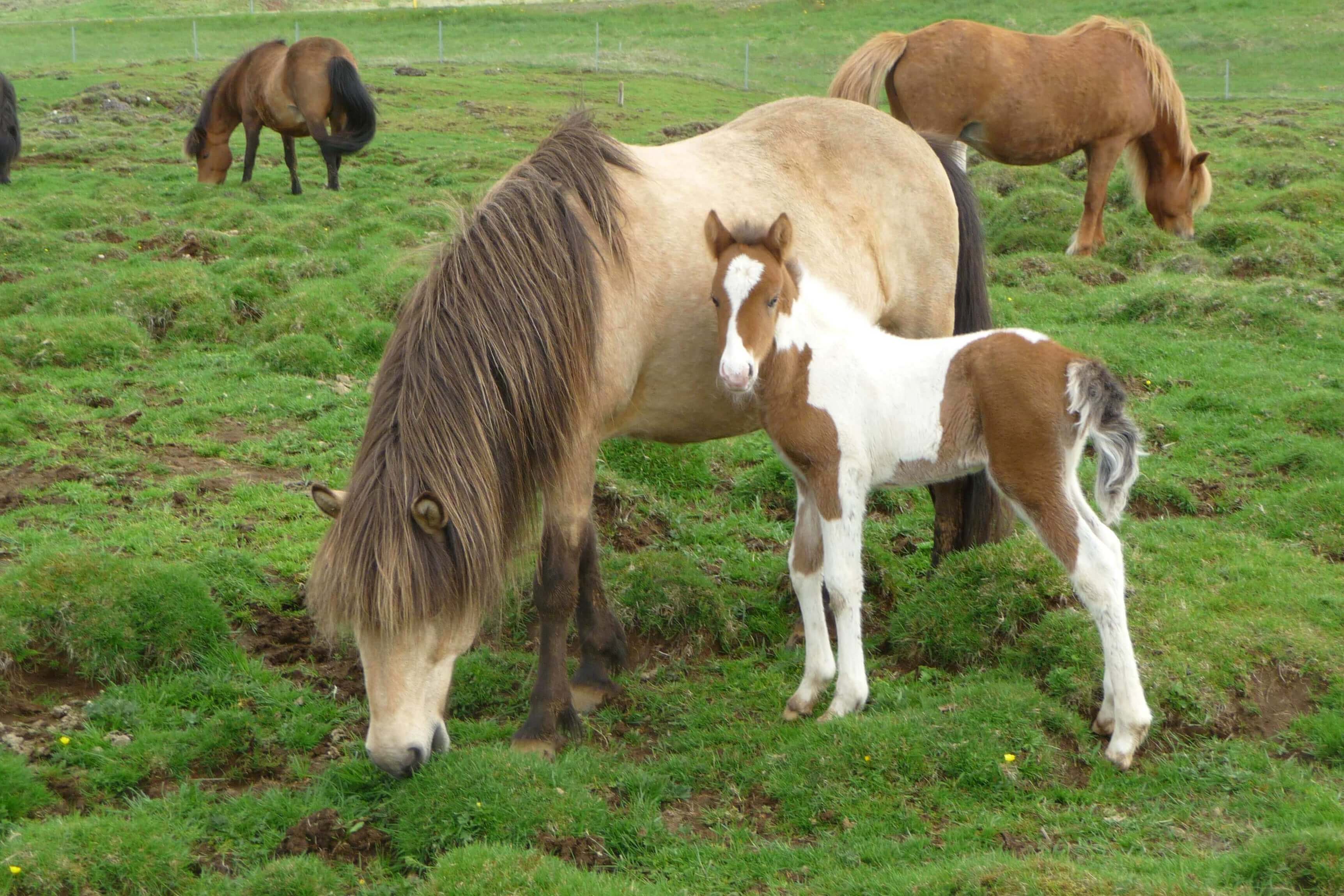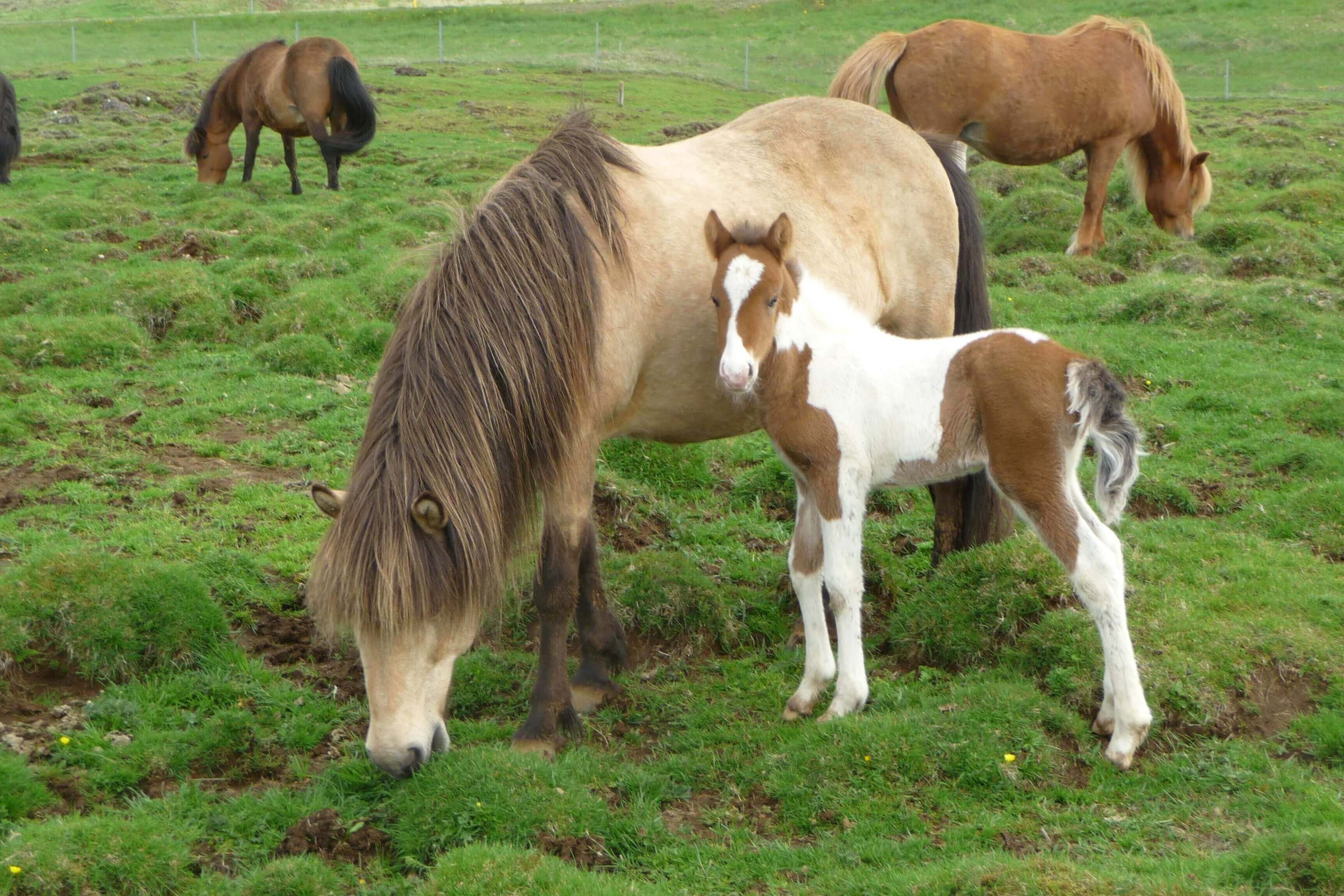 FEIF-ID
IS1999282191
COLOUR
Buckskin
SIRE
Faldur frá Syðri-Gróf 1
IS1994187495
DAM
Gýgja frá Egilsstöðum
IS1996282190
CHARACTERISTICS
Great spirit, forward-going yet easy to control. Strong tölt with high movements, judged 7.58. Expected to produce many promising horses.
OFFSPRING
Þula IS2008282191
Gosi IS2010182191
Fífa IS2013282191
Flekka IS2014282191
Folda IS2015282191
Fjóla IS2017287079
Frökk IS2018287079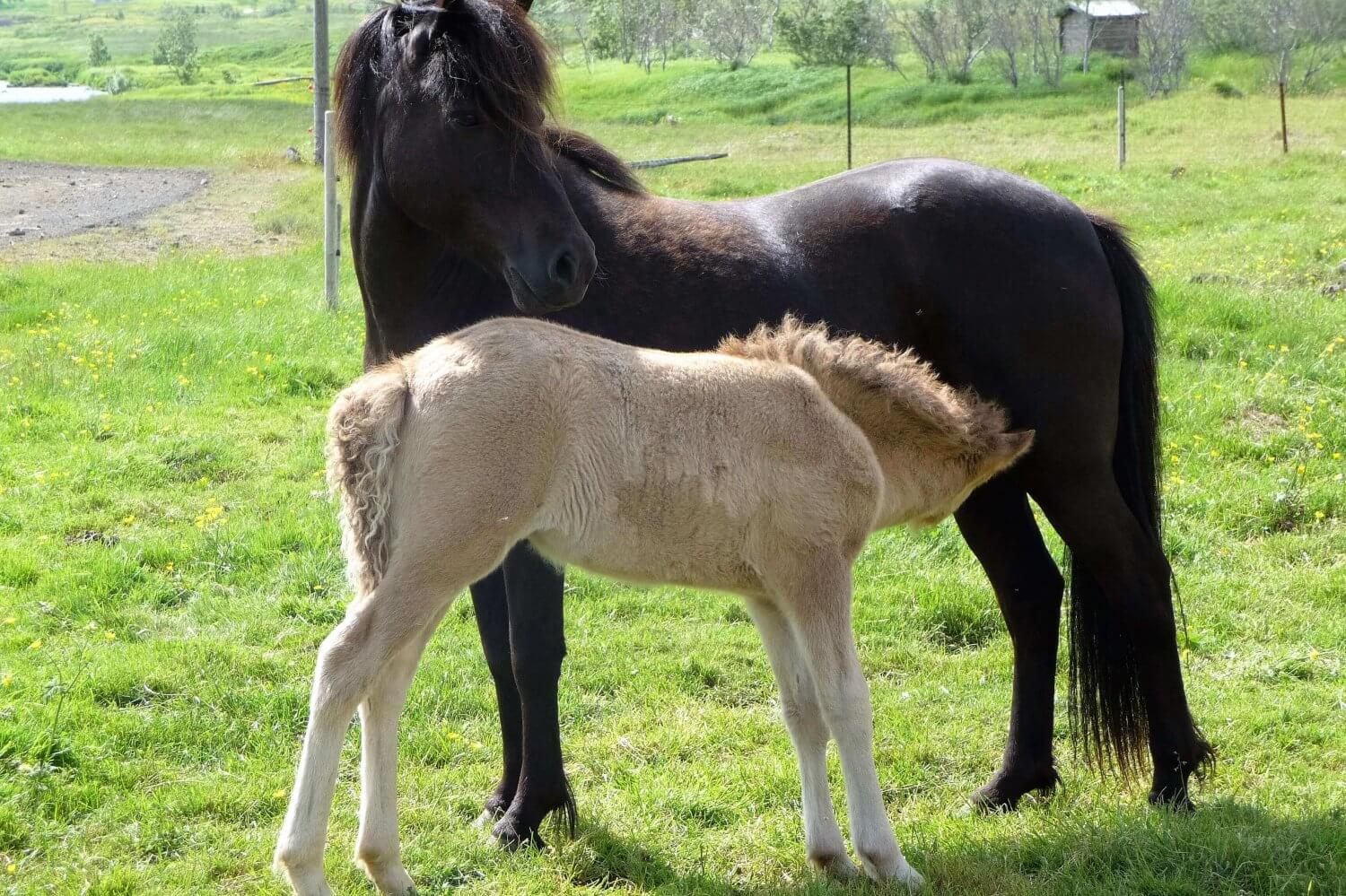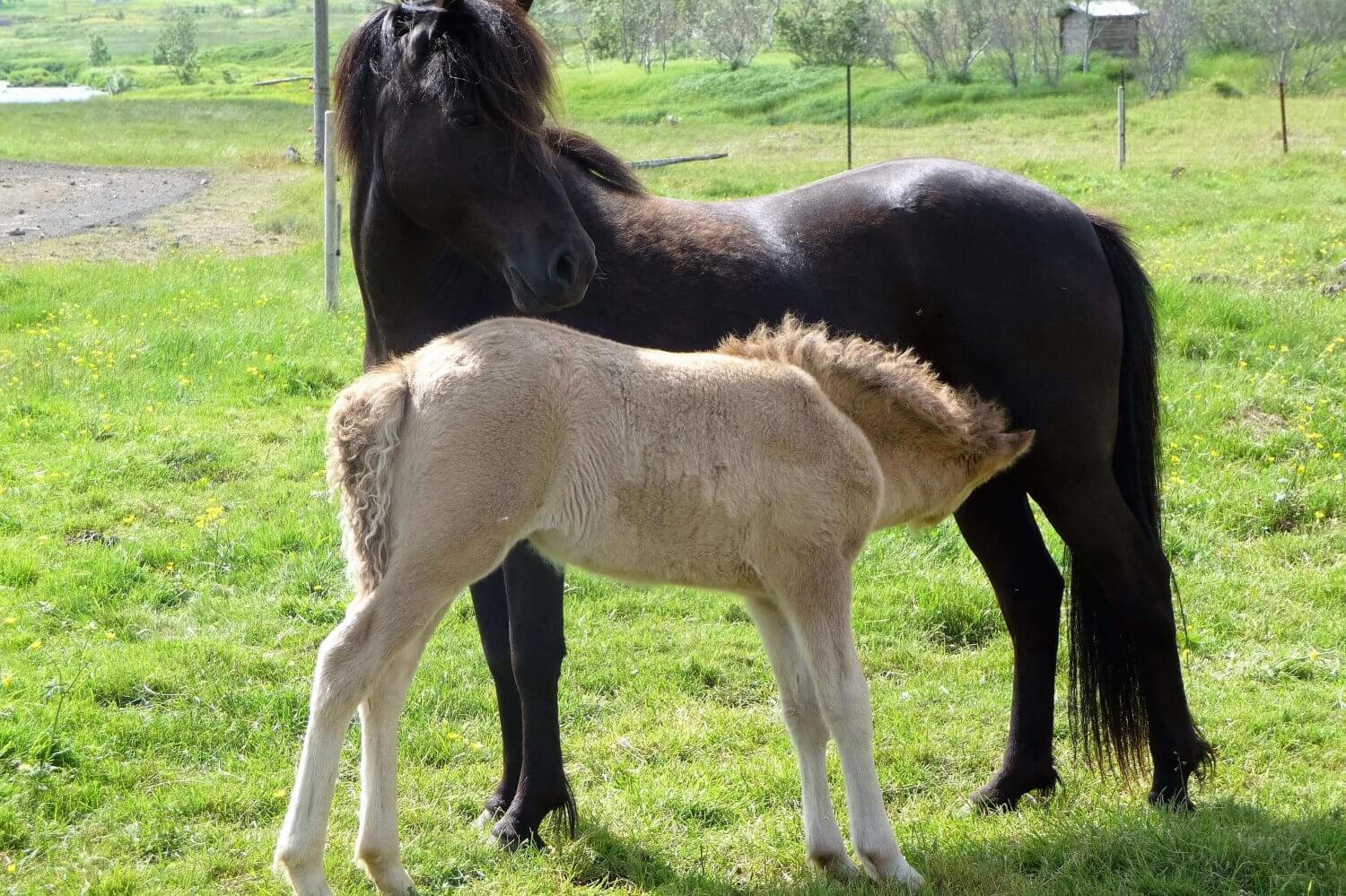 FEIF-ID
IS2003281797
COLOUR
Black
SIRE
Markús frá Langholtsparti
IS1993187449
DAM
Nett frá Hvoli
IS1983287038
CHARACTERISTICS
Strong family history, expected to produce competition and exhibition horses; judged 7.59.
OFFSPRING
Hrímey IS2014287074
Farsæll IS2015187084
Nör IS2016187085
Yrja IS2017281796
Nett IS2018287085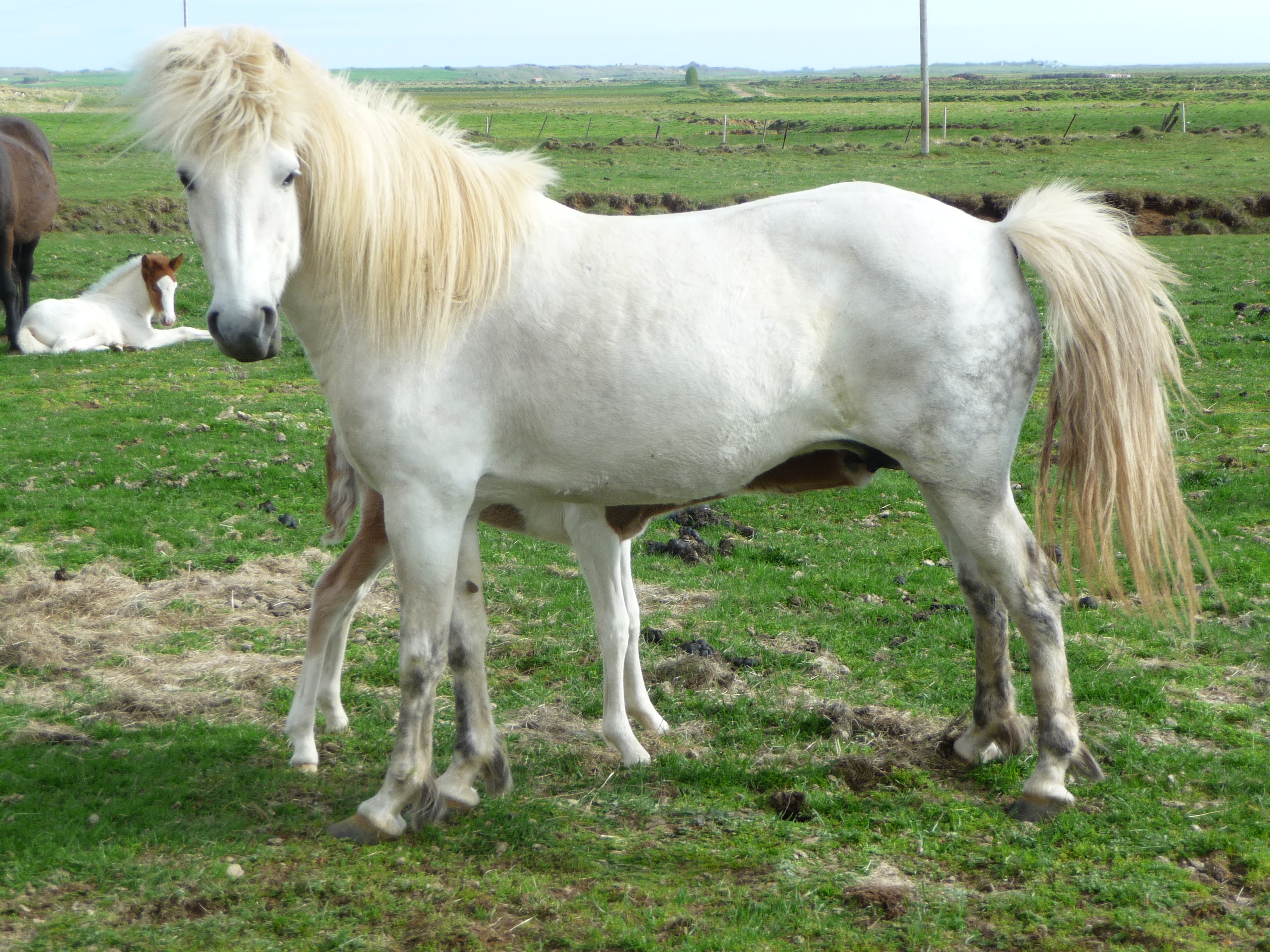 FEIF-ID
IS2005257429
COLOUR
Gray, born chestnut with a star
SIRE
Fálki frá Hóli
IS1997157371
DAM
Ljóska frá Hjallalandi
IS1998257371
CHARACTERISTICS
The first-prize winner judged 8.16 and 8.23
OFFSPRING
Kaldalón IS2012176454
Heiðar Hjörtur IS2013176330
Hugða IS2015287084
Heiðar IS2016187083
Harmónía IS2017287083
Hugdís IS2018287084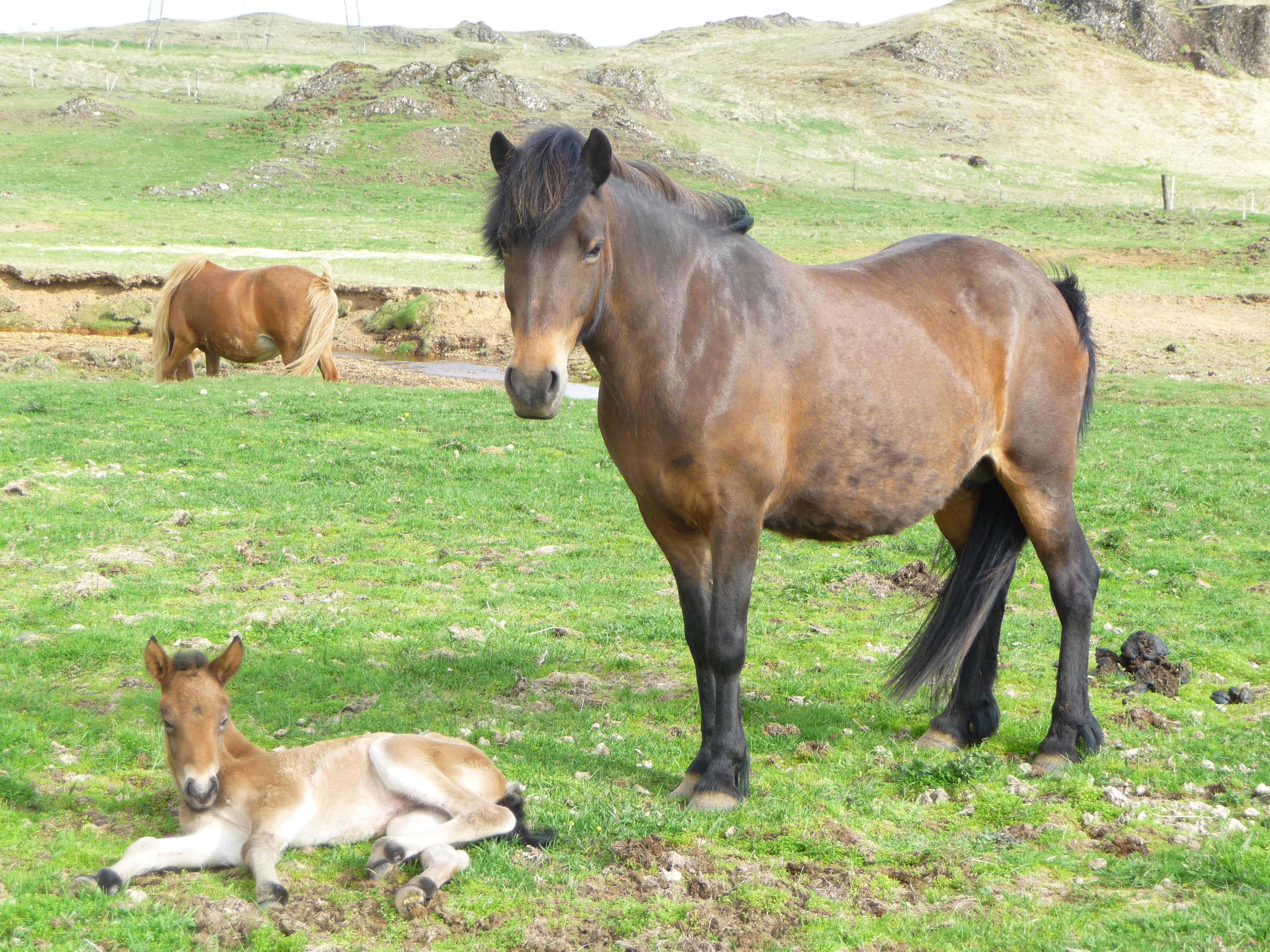 FEIF-ID
IS2004258626
COLOUR
Bay
SIRE
Rökkvi frá Hárlaugsstöðum
IS1997186541
DAM
Kolskör frá Gunnarsholti
IS1986286300
CHARACTERISTICS
Strong, award-winning pedigree, expected to produce competition and exhibition horses, the first foal was trained in fall 2015.
OFFSPRING
Sónata IS2012287086
Sinfonía IS2013287087
Gammur IS2014181796
Kjalar IS2015187085
Fjalladís IS2016281796
Jódís IS2017287085
Aría IS2018281796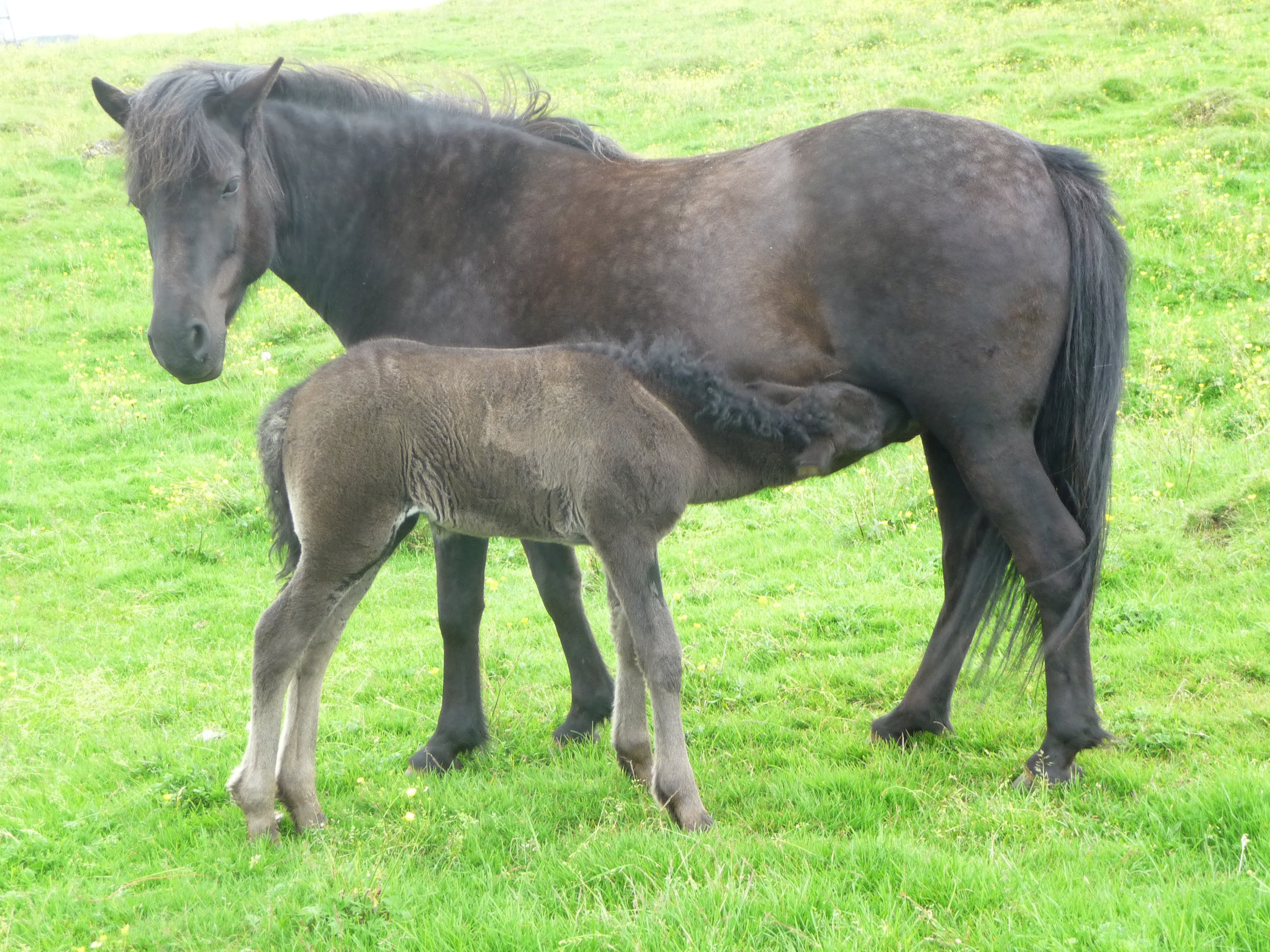 | | |
| --- | --- |
| FEIF-ID | IS2012287086 |
| COLOUR | Brown |
| SIRE | IS2006158620 – Hrannar frá Flugumýri II |
| DAM | IS2004258626 – Kátína frá Flugumýri II |
| CHARACTERISTICS | Clear beated tölt with big movements, enthusiastic and cooperative mare expected to produce many promising horses; judged 8.11 in total |
| OFFSPRING | Spes IS2018287083 |
| | |
| --- | --- |
| FEIF-ID | IS2013287086 |
| COLOUR | Black |
| SIRE | IS2002187662 – Álfur frá Selfossi |
| DAM | IS2000281796 – Náttsól frá Fellsmúla |
| CHARACTERISTICS | Clear beated tölt with high leg action, eager and cooperative mare; judged 8.03 in total |
| OFFSPRING | New to the breeding program |
| | |
| --- | --- |
| FEIF-ID | IS2014287075 |
| COLOUR | Black with snip |
| SIRE | IS2009157651 – Lukku-Láki frá Stóra-Vatnsskarði |
| DAM | IS2003266634 – Hind frá Hrafnsstöðum |
| CHARACTERISTICS | Mare with big movements and long strides in tölt and an impressive pace; judged with 8.35 for conformation and 8.02 in total |
| OFFSPRING | New to the breeding program |
Som passionerade hästmänniskor, började alla Eldhestars delägare att avla hästar långt innan Eldhestars avelsprogram kom till. Många av våra besökares favorithästar som Landljómi, Limra and Aldinblód för att nämna några som var resultat av denna aveln. Nu för tiden förser dem inte bara oss med fantastiska hästar för turerna utan vi drar även nytta av deras långa erfarenhet och kunskap om hästar och avel. Klicka på länkarna nedan för att läsa mer om varje delägares val inom aveln.
Sigurjón Bjarnason
När Sigurjón Bjarnason började avla, bestämde han sig för att använda sig av Tinna IS1993286650 frá Fellsmúla, vars blodlinje går tillbaka till ghården Hvoll på både mammans och pappans sida. Han använde sig även av stoet Brúnstjarna IS19AA286058 som han avlat själv. Han avlade även fran hennes döttrar. Hennes avkommor blev generellt sett stora och ståtliga och hade bra kroppsbyggnad. Dem ärvde även hennes karatärsdrag och hade bra gångarter.
Nu för tiden strävar Sigurjón, tillsammans med sina bror Hróðmar, att få fram hästar för tävling och utställning. För detta syfte används stona Njála IS2003281797 frá Fellsmúla samt Kátína IS2004258626 frá Flugumýri. Båda stona har mycket fina stamtavlor. Njála är dotter till Nett IS1983287038 frá Hvoli och Markús IS1993187449 frá Langholtsparti. Kátína är dotter till första-klass stoet Kolskör IS1986286300 frá Gunnarsholti och Rökkvi IS1997186541 frá Hárlaugsstödum. Kátínas första avkomma, Sónata IS2012287086 frá Völlum reds in under hösten 2015. Under hösten 2016 var det hennes syster Sinfonía IS2013287087 frá Völlum tur att ridas in.
Þorsteinn Hjartarson
Thorsteinn Hjartarson använde sig mest av Fluga IS1986288657 frá Staerri-Bae och hennes dotter Aldinblód IS1998287936 frá Framnesi för sin avel. Fluga gav hästar med mycket vilja, som hade utmärkta gångarter och som var robusta. Detta gjorde att dem var perfekta för Eldhestars längre turer. Flugas mest välkända avkomma bland våra gäster var utom tvekan Landaljómi IS1993287894 frá Brautarholti 3. Andra nämnvärda avkommor är Gaukur IS1994187973 frá Staerri-Bae, Limra IS1994288972 frá Brautarholti 3 and Rauðgrani IS2005187039 frá Völlum. Aldinblóds föl är både vackra och har mycket rörelser. Hennes två äldsta avkommor är Uggi IS2006181798 frá Fellsmúla och Eitill IS2008181799 frá Fellsmúla, dem började gå med på Eldhestars turer under sommaren 2015. Båda två tycker om att arbeta och har mycket tölt.
Smári Sæmundarson
Smári Saemundsson focussed his breeding on Gýgja IS1996282190 frá Egilsstöðum in Ölfus, a farm with a long history in horse breeding that is widely known for it's hard-working and good riding horses. Some of the horses from Egilstaðir have been with Eldhestar for a long time. Gýgja's sire Amor IS19AB182001, for example, was still working for Eldhestar at the ripe age of 25. Some horses that Gýgja has foaled are Molda IS1999282191 frá Egilsstöðum, Háleggur IS2001187095 frá Núpum, Saga IS2005282197 frá Völlum and Riddari IS2007182079 frá Völlum.
Gýgja's oldest daughter Molda has started to prove herself as a good breeding mare. Her oldest offspring, the mare Thula IS2008282191 frá Völlum was rated 7.99 (out of 10) in the summer of 2014. Thula's "aunt" Saga received the same rating (7.99/10) that year. In our opinion, both horses deserved to win first prize for breeding.
Hróðmar Bjarnason
Hródmar Bjarnason was the last of Eldhestar's owners to begin breeding Icelandic horses. His breeding policy is intertwined with Eldhestar's policy—i.e. to breed both well-behaved family horses as well as exhibition and competition horses. With that in mind, he purchased a share in the mares Njála frá Fellsmúla and Kátína frá Flugumýri along with Sigurjón (see above). In addition, Hródmar invested in the first-prize-winning mares Heidur IS2005257429 frá Hjallalandi and Gremja IS1999286935 frá Árbae, the latter of whom he co-owns with his brother's wife Halldóra Thorvardardóttir. He also has high hopes for his mares Gunnvör IS1999288260 frá Hvítárholti and Elding IS2000284547 frá Njálsgerdi. They are both expected to produce good and well-behaved riding horses that do well in all gaits, especially the tölt.