TOUR 8D – Northern Lights
Horse riding, relaxing and Northern Lights Watching
This tour includes half day tours and a day tour on horseback, relaxing in thermal pools and sightseeing to the most famous natural sights in South Iceland. After the morning ride you warm up at lunch with soup and coffee at our comfortable hotel before you continue the program with riding, bathing in Hveragerðis excellent thermal swimming pool or sightseeing. On the last day you will take part in a excursion to the beautiful Gullfoss waterfall, the hot springs at Geysir and Thingvellir national park. When the sky is clear and the Aurora Borealis forecast promising, you can just walk outside to observe the stunning phenomena or we drive where the chances to watch the Northern Lights are the best.

Nice place, nice people, nice food. Everything was good. I suggest spending time here if you are in this area. If you love horses this is an ideal place. Is on the way number one before arriving in Reykjavik.
Duration
4 days and 3 nights – 3 days riding & activities.
Riding distance
Ca. 35 km (2-5 hours per day). It is possible to book additional riding tours instead of activities.
Included
English speaking guide, riding and safety equipment, hotel pick-up and refreshments. Accommodation at Hotel Eldhestar or a nearby hotel in a shared room, full board (3-course dinner, special meals on request).
What to bring
Good shoes, comfortable pants (riding pants not necessary), gloves and a buff is recommended and if you want to bring a camera, please bring a small waist bag as backpacks cannot be taken on horseback. Bring a swimsuit and a towel.
See more detailed information here:
Notes
This tour is dependent on weather and Northern Lights sightings are not guaranteed. The transportation from airport to Reykjavík & Reykjavík to airport & dinner on the last evening is not included in our longer tours.
Day 1: Evening arrival
The tour begins in the evening. Guests who arrive in Iceland  on the same day take the aiport shuttle "Flybus" (Reykjavik Excursions) from the airport to Reykjavík (BSÍ bus terminal). We will pick you up at BSÍ or at your hotel / guesthouse between 17.30 and 18.00 and drive to Eldhestar's farm Vellir near to the village of Hveragerði (ca. 40 minutes driving), where you will be staying either at Hotel Eldhestar or at Guesthouse Eldhestar (according to your booking). An information letter with a detailed description of the following days will be offered upon arrival.  The day ends with dinner at Hotel Eldhestar.
Day 2 – Meadows, Mountains & Winter Warmth
After breakfast, your guide meets you for a short introduction in the stable. The guide will provide the necessary riding equipment (riding helmet, warm overall or rain gear) and start with a short riding demonstration before you get to know the horses during a few rounds in the paddock. Today we ride 4-4.5 hours, starting with the tour Meadows and Mountains. We ride on soft trails along the meadows surrounding our farm, a good opportunity to get familiar with the special gait of the Icelandic horse, the "tölt". We then follow the river Gljúfurá, head towards the volcanic mountains and ride on an old route along the slopes of the mountain Reykjafjall. Our reliable horses take you up and down the trail, while you enjoy nice views of the diverse landscape between the ocean and the volcano Hengill. Back at the farm we warm up with light lunch before we choose horses for the afternoon program Winter Warmth. We spend another hour on horseback before driving to the thermal swimming pool in Hveragarði to soften up in soothing, warm geothermal water, relax in the steam sauna or take a swim in the comfortably warm outdoor pool. Imagine sitting in a steamy hot tub as a light snowfall turns the grass around you white. Afterwards, coffee and home baked cake will be served in the cozy environment of the hotel. We check the Northern Lights forecast and get some useful information about this natural phenomena. If the forecast is favorable, and the sky is clear, we look out for the lights at the farm or go on a hunt!
Day 3 – Horses, Hot Springs & Soft River Banks
Today we experience a variety of amazing nature. We start the day with the tour Horses & Hot Springs, riding on excellent trails along the slopes of Reykjafjall Mountain and through a green forest. We pass by many hot springs in the colorful geothermal area Gufudalur valley. This area is situated just above the village of Hveragerði and expanded dramatically during the big South Iceland earthquake in 2008. The path continues along the volcanic hills above the village, which is known for its beautiful location between the green mountains of volcano Hengill and wide plains. We stop close to the stable area for some refreshments and learn more about the Icelandic horse before riding back to our farm for lunch. After lunch we saddle our horses again for the afternoon ride, Soft River Banks, following the river Gljúfurá  to an old cemetery and further down to the soft river banks of the mighty glacial river Ölfusá.  From there, we have a view of the river and if the weather allows the famous volcanoes Hekla and Eyjafjallajökull. Upon your return to the farm, dinner will be served.
Day 4 – The Heritage Tour & The Golden Circle
On the final day you will ride The Heritage Tour in the morning. This tour takes us on nice trails through meadows, lava fields and a small river. On our way, we enjoy the nice scenery of volcanic mountains and farmland, passing several farms which give us an idea of how agriculture has developed in the last decades. After the riding and checking out of your room we warm up with light lunch and coffee or tea. Then you will be picked up to visit the three most impressive natural sights in South Iceland along the "Golden Circle": The famous Geysir geothermal area, the "golden waterfall" Gullfoss and Thingvellir National Park. The Geysir geothermal area boasts spouting springs, including Strokkur, the most active geyser in Iceland. At Gullfoss you are given the opportunity to stand next to the amazing waterfall, watching enormous quantities of water tumble violently into a deep canyon. You also spend time encountering a cross-section of Iceland's natural wonders and geological phenomena at Thingvellir National Park, an area of historical and geological significance. You will be back in Reykjavík around 18:00.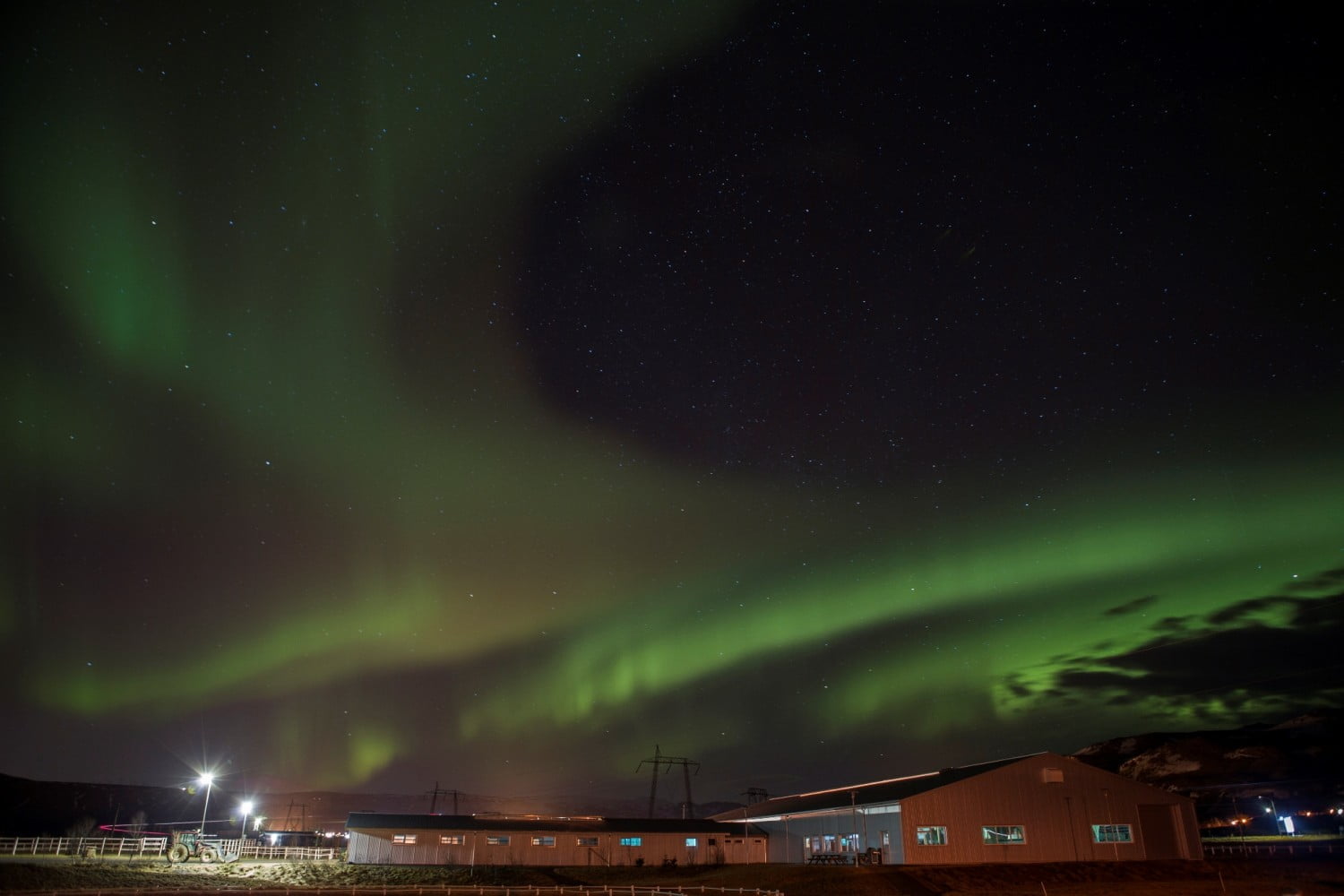 CANCELLATION POLICY
All rates are according to our price list in EUROS.
CANCELLATION
All cancellations must be written and confirmed by our office. We accept cancellations per e-mail.
CANCELLATION CHARGES
In case of cancellation 21 or more days prior to tour departure cancellation fee is 20% of the tour price.
In case of cancellation 20-14 days prior to tour departure cancellation fee is 50% of the tour price.
In case of cancellation later than 13 days but before 48 hours prior to tour departure cancellation fee is 75% of the tour price.
In case of cancellation later than 48 hours prior to tour departure or no show, cancellation fee is 100% of the tour price.
In case you need to cancel your tour due to unexpected events, any paid amount for unused services can be used for another tour or transferred to another person.
INSURANCE: Individual travel insurance is not included in the tour prices. We strongly recommend that you purchase a travel insurance policy in your home country that covers your cost should you have to cancel your travel reservation with short notice. These kind of travel insurances are not expensive and frequently cover other risks.
OTHER
All complaints must reach Eldhestar within 5 days from departure from Iceland. Otherwise possible compensation is not valid.
Note: Eldhestar reserve the right to alter tours and itineraries due to weather or road conditions. All programs can be changed or cancelled at any moment during the trip to assure the safety of the clients and staff of Eldhestar and other business partners in case of combo tours. No responsibility is accepted for losses, expenses due to delays, changes of flights, or other services or because of strikes, accidents, sickness, damage, negligence, weather, war, changes in schedules, or other similar causes. Eldhestar and other partners in case of combo tours do not assume responsibility for accidents or death that can be traced to the participant´s negligence, acts of third parties or exterior circumstances such as weather, natural occurrences, war or other similar causes.
NOTICE: THE SMALL PRINT
Included: Meals and services as described in the itinerary and 11% VAT.
Children's discount for children 14 years and younger is 20%. 
Single supplement for tours with hotel accommodation is 40 EUR p.p.p.n.
BOOK NOW
Note: Your tour booking has not been confirmed until you receive an email from Eldhestar that confirms your booking. If you do not receive a confirmation email from Eldhestar, please contact us immediately: info@eldhestar.is