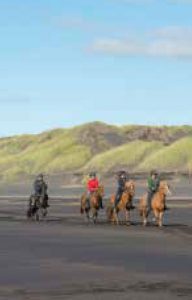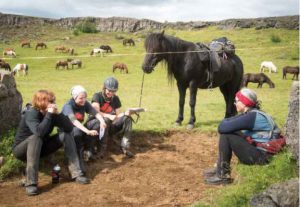 ​"I wasn't feeling much like a wild women as cold raindrops beaded off my helmet brim and soaked into my gloves. But there was something about riding across this land of fire and ice that had called to me. The next six days spent riding around the base of Hekla Volcano in the southwest corner of Iceland dozen intrepid women ranging in age from 16 to 60-something would certainly test my mettle, and it would prove to be a transformative experience for each of us."
This text is taken from an article published in Horse Illustrated Magazine in November 2019, written by Stacey Nedrow-Wigmore. Stacey took part in a riding tour close to the Volcano Hekla arranged by Eldhestar in Iceland (Tour No. 15 in Eldhestar program).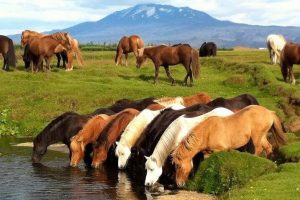 In 2014, a woman by the name of Jennifer Haddow, the founder and owner of Wild Women Expedition (WWE), called the manager of Eldhestar and asked if Eldhestar was willing to organize horse riding tours for her company (organization). The manager immediately responded with a yes. Since then Eldhestar and WWE have organized 40 departures these last 6 years and the interest seems to increase every year. We recommend that you read the whole article here. And watch the video from the tour as well.
Below is a video from the tour: